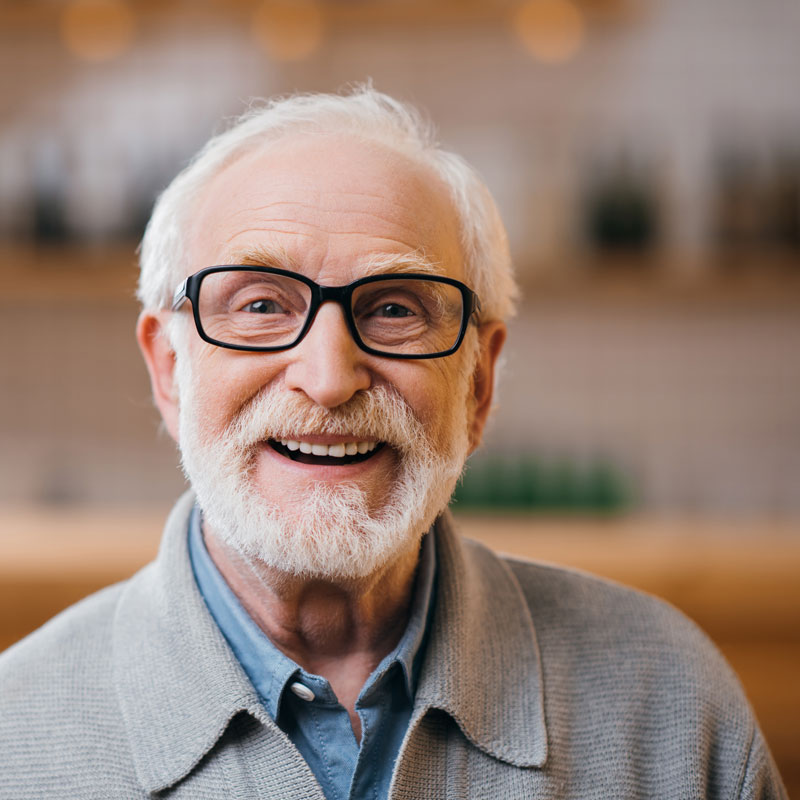 GuideStar Eldercare's mission is to enhance the quality of life for our shared patients by easing their suffering while actively promoting their safety, functionality, and dignity.
GuideStar Eldercare Medical Group is the national leader in neurobehavioral eldercare, providing expert dementia care medical services to long-term care skilled nursing facilities, memory care units, and CCRCs.
Our neurologically based model ensures proper care and diagnosis, which leads to higher standards of care for patients with dementia, neurocognitive impairments, and/or psychiatric conditions. Our outcomes-driven clinical model for assessment and treatment eases suffering and leads to the best possible outcomes for the patient and the facility.
As a comprehensive medical group, GuideStar Eldercare provides consistent, daily support to our facilities, their staff, their residents, and their residents' families. We are also available via on-call services with our capable clinicians 24/7. Explore neurobehavioral services
LTC Neurobehavioral Management Expertise
Pioneering assessment, treatment, and care protocols from the GuideStar Eldercare medical group can elevate the quality of care and quality of life for long-term care patients.
Accurate Diagnosis
Effective treatment begins with an accurate diagnosis. Neurocognitive, psychiatric, and behavioral symptoms of dementia are complex and ever-changing. Using validated tools and our assessment protocols, GuideStar practitioners conduct comprehensive assessments that address cognitive functioning, neuropsychiatric and behavioral measures, and functional dementia severity. With comprehensive neurobehavioral assessment, we can guide the best possible outcomes for the patient and monitor progress.
Medication Management and Antipsychotic Reduction
Our staff assesses medications prescribed for GuideStar Eldercare patients to create a plan for gradually decreasing the usage of psychotropic medications, both to improve patient well-being and to comply with CMS guidelines. We review all medications regularly reviewed to prevent interactions and eliminate those that may be adversely affecting a patient's mental health.
Maintaining Facility Oversight and Regulation
GuideStar Eldercare's services elevate a facility's ability to care for challenging patients so that they, their families, and facility staff can successfully manage the challenges of neurobehavioral eldercare. Our programs are designed to help maintain regulatory compliance through expert clinical leadership, improved documentation, reduced re-hospitalization, and most importantly, improved patient-focused outcomes.
Education and Training
Our team offers in-service training programs to long-term care facilities to help staff maintain best practices and the highest levels of care for Alzheimer's, other dementias, and neurocognitive conditions. We tailor these programs to fit a facility's specific needs, working closely with the leadership team.
Family Counseling and Advising
It is important for family members to know what to expect during the course of treatment for their loved ones. We encourage family members to be active in their care, and we offer to meet with them to discuss diagnoses and treatment plans. Our compassionate psychologists and licensed clinical social workers seek to ease suffering from dementia and its impact on families through ongoing support.
Leadership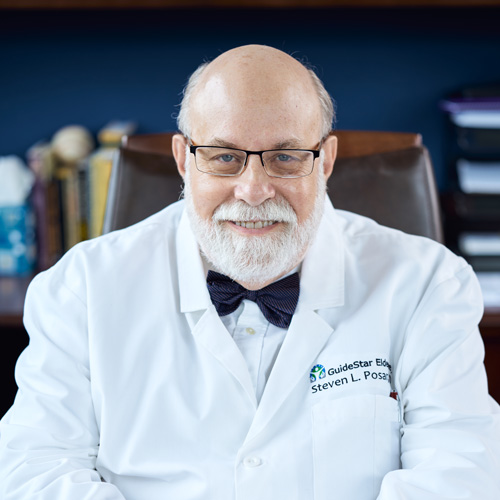 Steven L. Posar,

M.D., CEO, Founder, Chief Medical Officer
"Our Mission: To enhance the quality of life for our shared patients by easing their suffering while actively promoting their safety, functionality and dignity. — is what drives our care model"
From its inception more than 15 years ago, Dr. Posar and GuideStar Eldercare have provided an unmatched level of medical care and innovation. Dr. Posar recognized the demand for integrated psychiatric, neurological, medical, and psychological health care to adult and elderly patients with neurological and/or behavioral illness.
Dr. Posar's robust experience as both a Gerontologist and entrepreneur have helped elevate the standard of care provided to this often forgotten population. Sima Cutler, Esq.,

Chief Compliance Officer & Acting General Counsel
"We are so mission focused at GuideStar Eldercare, I'm convinced that everything we do as a company ultimately benefits our patients and their quality of life."
Sima Cutler serves as GuideStar Eldercare's Chief Compliance Officer and Acting General Counsel, ensuring compliance with laws, regulatory requirements, policies, and more. Her career path is one marked with notable achievements and professional responsibility, including, but not limited to: employment litigation, labor law, estate planning, and small business counsel.
Ms. Cutler holds a JD, magna cum laude, from Capital University Law School. She also earned a BA in Political Science with a Minor in Art History from The George Washington University. In the chance she has spare time, Ms. Cutler enjoys travelling, visiting museums, and studying the French language.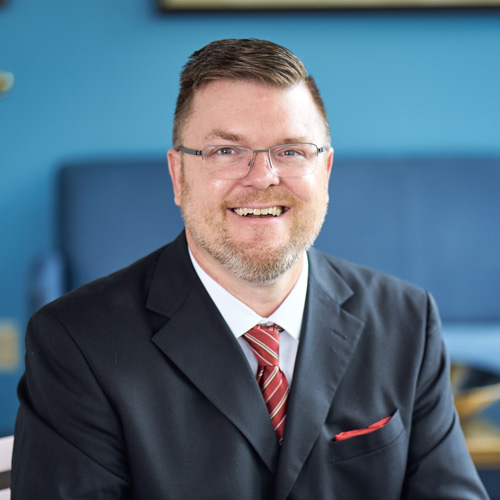 Ed Shebel,

Chief Marketing Officer, Executive Vice President of Development
"I am fortunate to work with an amazing team of professionals who make each day more robust and fulfilling than I could ever have anticipated."
Ed Shebel assumed the role of GuideStar Eldercare's Chief Marketing Officer in November 2018, bringing with him more than two decades of award-winning health care strategies and marketing tactics.
Ed prides himself for having begun his marketing career as an intern at a health care marketing company—washing coffee mugs and shredding documents. He worked his way from intern to Director of Business Development and Partner. He is responsible for more than 90 national and international awards for marketing strategy and tactics including Communicator Awards, Healthcare Advertising Awards, and Healthcare Marketing Impact Awards. Maureen M. Maloney,

Chief Operating Officer
Maureen comes to GuideStar Eldercare with a solid background of successes in Healthcare Operations and Business Development as a senior leader focused on revenue generation and organizational strategy.
She has a reputation as a leader in client acquisition, business management, and team leadership while leveraging a unique mix of strategic and analytical expertise and consistently exceeding performance goals by aligning the effort of strong teams with project objectives. Maureen attended Purdue University and has a BA in Communication and a CMBA from University of Illinois.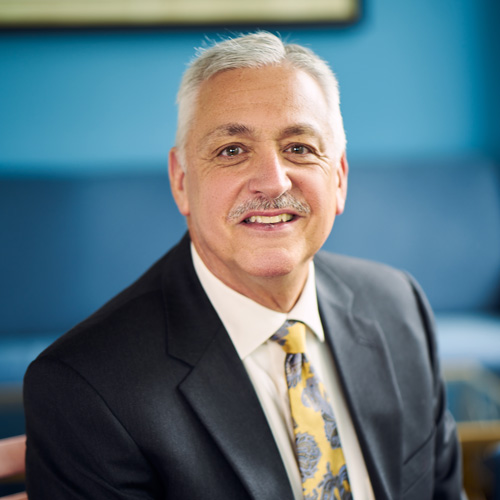 Daniel Heiser, PSY. D.,

Senior Vice President, Behavioral Health
As GuideStar Eldercare's Vice President of Behavioral Health, Dr. Heiser works to provide a comprehensive and compassionate approach to the assessment, diagnosis, and treatment of GuideStar Eldercare's patients. Dr. Heiser utilizes pioneering care protocols that stress the importance of continuity of care to address issues in a timely and holistic manner to help identify and treat the underlying causes of our patients' conditions before they lead to additional concerns.
Dr. Heiser earned his Psy.D. from Adler University and has years of practical clinical experience. He and his wife are proud parents to their dogs and enjoy vacationing in Florida to escape the chilly Midwest winters.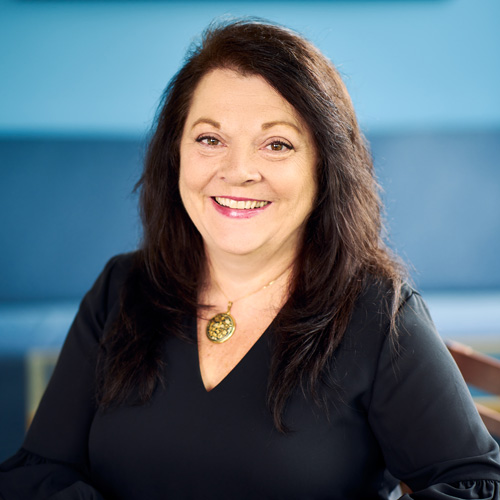 Anita Reid, MSN, APN, FNP-BC, GNP-BC,

Senior Vice President, Nurse Practitioner Services
"I am committed to GuideStar Eldercare as we continue to serve a growing and very vulnerable population, and am indebted to those who allow us the privilege to serve their health care needs. Opportunities like this are few and far between"
As GuideStar Eldercare's Vice President of Nurse Practitioner Services, Anita brings decades of expertise as a nurse practitioner to each facet of GuideStar Eldercare. She oversees the team of nurse practitioners and assures that GuideStar Eldercare works closely with each facility's nursing staff to provide an unparalleled continuum of care. She makes sure the entire GuideStar Eldercare clinical team strives to provide seamless ongoing neurological, medical and behavioral health care for each patient, and helps to maintain the highest level of clinical and pharmacological standards.
Anita holds a BSN from Boston University, and earned her MSN from Rivier University. She is a proud mother and grandmother, and can often be found gathering her family for seasonal photos, meals, and adventures. Dr. Olaniyi Osuntokun,

Corporate Medical Director
Dr. Osuntokun completed residencies in Neurology and Psychiatry at the Indiana University School of Medicine and holds board certification in both. He brings extensive experience working with behavioral and neurological cases in both inpatient and out-patient settings.
At GuideStar Eldercare, he oversees quality measures, ensuring the highest levels of clinical outcomes. Dr. Osuntokun also provides oversight and collaboration for the GuideStar clinical team. Dr. James Shackson, MD

Associate Medical Director
Dr. Shackson is board certified in Psychiatry, specializing in Geriatric Psychiatry. He earned his MD from Northeastern Ohio Universities College of Medicine. He has been well known among nursing homes in the greater Cincinnati region for more than two decades for his compassion and skill in addressing the psychiatric needs of geriatric patients.
Dr. Shackson oversees a team of psychiatrists, nurse practitioners, and psychologists working on-site in Ohio long-term care facilities and is excited to help advance the mission of GuideStar Eldercare.