Discover a rewarding

career with the industry leader!

When you join our interdisciplinary care team, you will become an innovator side-by-side with expert clinicians and seasoned leadership who share your passion for improving quality of life for long-term care residents. Join a team with a leading-edge mission and reap the rewards.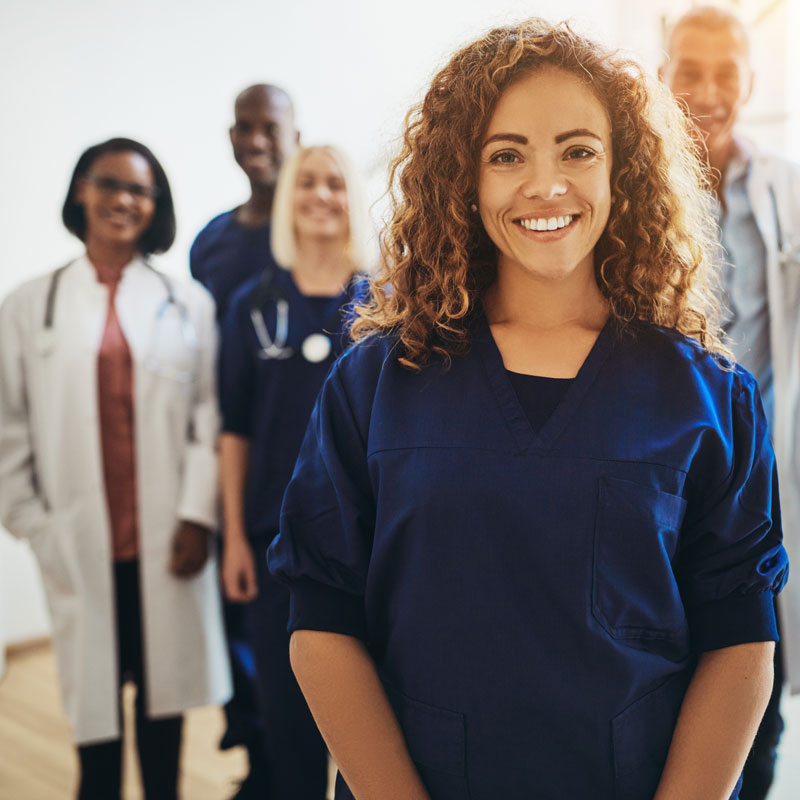 GuideStar Eldercare provides comprehensive bedside psychiatry, behavioral health, and neurology to residents of long term care facilities who struggle with dementia and other mental illnesses.
GuideStar Eldercare's mission is to enhance the quality of life for our shared patients by easing their suffering while actively promoting their safety, functionality and dignity. GuideStar Eldercare is actively recruiting for the following outpatient positions: Clinical Psychologist, Nurse Practitioner (licensed and license eligible), and Licensed Clinical Social Workers.
GuideStar Application Process
Application
Our resume submittal process makes expressing interest in an opportunity quick and easy. Simply upload your resume and the process is initiated.
Resume Review
We aim to review every resume submitted within 3-5 business days. At that time, we will inform qualified candidates if they have been selected to move forward in the process with an invitation to a phone interview.
Interviews
The interview process is all about getting to know our candidates and allowing the candidate to learn about us as an organization and employer. Interviews are conducted via phone, Zoom or in person.
Offer
If selected, the candidate will receive a verbal offer, followed by a written offer that we call a Letter of Intent. Offers are contingent on the successful completion of background checks and drug screens.
New opportunities are posted daily! Our site is updated often, if you don't see an opportunity for your specialty/area there may be one available tomorrow. Visit our career site regularly.
Behavioral Health Testimonials
I am an LCSW and have been with GuideStar Eldercare since February 2019. I have noticed and benefited from supervisors who are supportive and have worked in the field. They are insightful and instructive. They also ask for field staff input and work to make any challenges as smooth as possible for clinical staff. It is nice to feel supported and yet challenged. It has been a good transition for me to join the GuideStar Eldercare team."
I love working for GuideStar Eldercare because it gives me a chance to help provide support and dignity to my residents and their families during one of the most difficult times of their lives."
GuideStar Eldercare has provided me with an amazing professional opportunity to learn more about our aging population and a disease that can rob a person and family. We help to restore dignity and respect to our clients in a way that is affirming and caring. GuideStar Eldercare genuinely cares about its employees and populations served and is a fantastic team that I am proud to be a part of."
It is so great to work for a company who has the intention to make care and life for the elderly better. Also so great to work for a company that is flexible, understanding, willing to help in any way and whom cares about all of their employees and shows it throughout the year."
I've never felt so supported and appreciated by a company I've worked for and always felt I had a whole team which is just a call away and always so responsive to any issues or concerns. This job has the best of both worlds offering the autonomy and independence which many aspire for while also having the support, resources and backup which those in private practice wish they had from a large company."
I have been with GuideStar Eldercare for over three years; this is an amazing company to work with. GuideStar Eldercare is a nurturing company, you truly work WITH them, not just FOR them. Support is ever present but not overbearing, and management stands beside me when I need them. GuideStar Eldercare makes sure I have the support and tools I need to deliver excellent patient care, this is a great place to be a Nurse Practitioner."
Jobs will be updated upon entering a search or selecting an option