Challenges to Reducing Antipsychotic Use in Nursing Homes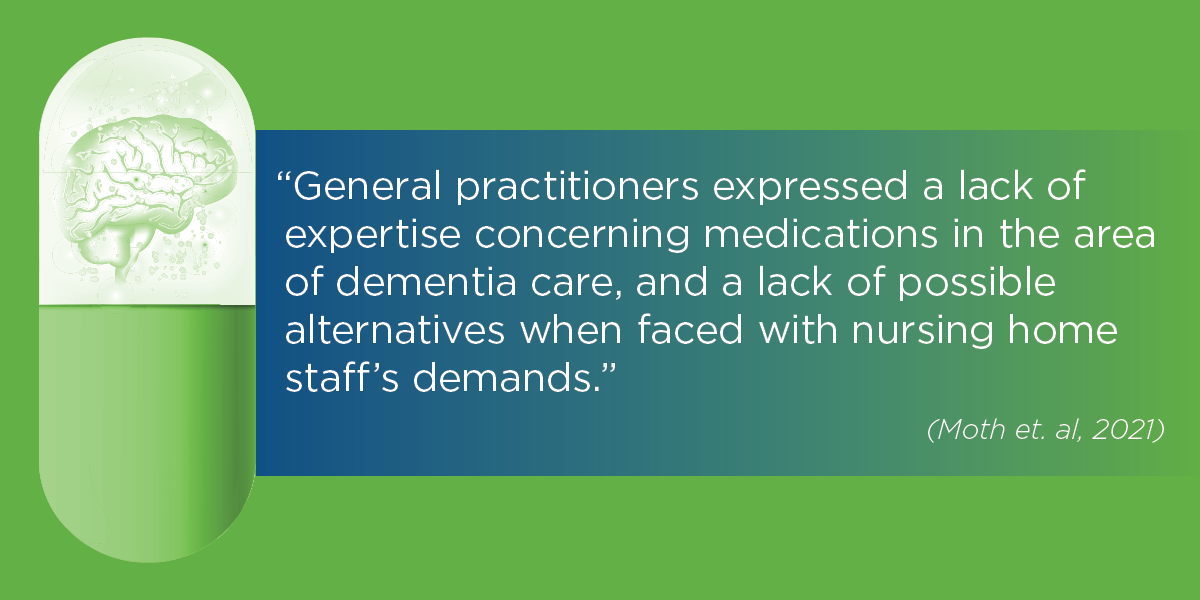 Practitioners in the long-term care industry today are wrestling with overuse of antipsychotic medications, along with CMS mandates to reduce antipsychotic usage. Public attention is riveted to the challenge, too, as the New York Times reported in 2021 that one in nine nursing home residents has a diagnosis of schizophrenia. That finding is a red herring because in the general population, schizophrenia affects only about 1 in 150. It's also a red flag because "the schizophrenia diagnosis is one pathway used towards delivering antipsychotic drugs to residents," as reported in Antipsychotic Drugs Overused in Nursing Homes.
Reasons for overuse of antipsychotics
A recent review study examined focus group and survey data for more than 8,000 records to understand why and how the challenge persists (Moth et. al, 2021). Their analysis led to five themes that can characterize underlying causes of antipsychotic overuse.
How operational issues affect antipsychotic usage
Two of the themes describe how nursing homes may "facilitate" inappropriate use of antipsychotics and other psychotropic drugs, say the authors:
Operationality and staff routines are a factor, because systematic procedures in place may support "a common understanding" of how patients are managed.
Policies that include "support and buy-in from nursing home leadership" also feed into medication decision-making, they say.
Barriers to reducing antipsychotic usage
The next group of themes addresses complex clinical dynamics:
Lack of resources and qualifications emerged as a major barrier. Nursing home staff cited concerns such as not having enough time to do a comprehensive medication review, "lacking the time needed to enable use of non-pharmacological treatments," lack of knowledge regarding psychotropic drugs and side effects, lack of qualifications and training in clinical management of BPSD, a lack of expertise concerning medications used in dementia care, and a lack of onboarding for relatives who may object to antipsychotic reduction.
General practitioners expressed a lack of expertise concerning medications in the area of dementia care, and a lack of possible alternatives when faced with nursing home staff's demands."
say the authors
A perception or fear of negative patient-related outcomes can influence prescribing practices. Rather than risk exacerbating behaviors, "general practitioners, nursing home staff, and relatives saw it as a best practice that the patient remain taking the drug, owing to a perceived risk of a negative impact on quality of life," report the authors.
Collaboration between physicians and nursing home staff is a major factor in what clinical practices take form, conclude the authors. Often, poor communications, limited knowledge, and/or desires to minimize pushback play a role in antipsychotic overuse.
Limited efficacy; added risks of psychoactive drugs
Moth et al. point to "strong evidence" that "antipsychotics have modest efficacy and are associated with cerebrovascular events and death," while benzodiazepines are also "associated with a higher risk of falls, cognitive impairment, and sedation." Antidepressants with anticholinergic effects likewise appear to have limited effects and carry risks of side effects and adverse events. More broadly, the authors underscore the risks of polypharmacy.
Conclude the authors, "Resources need to be in place for deprescribing," and there needs to be "a focus on the positive patient outcomes of doing so." The authors provide evidence that antipsychotic reduction would have to be a deliberate process, reinventing the systems and procedures that support clinical decision-making, with targeted training and supports for all stakeholders.
Learn more about how the GuideStar Eldercare clinicians view antipsychotic usage, and discover a new model for reduction in the next blog post, Reducing Antipsychotic Use in Nursing Homes: A Paradigm Shift