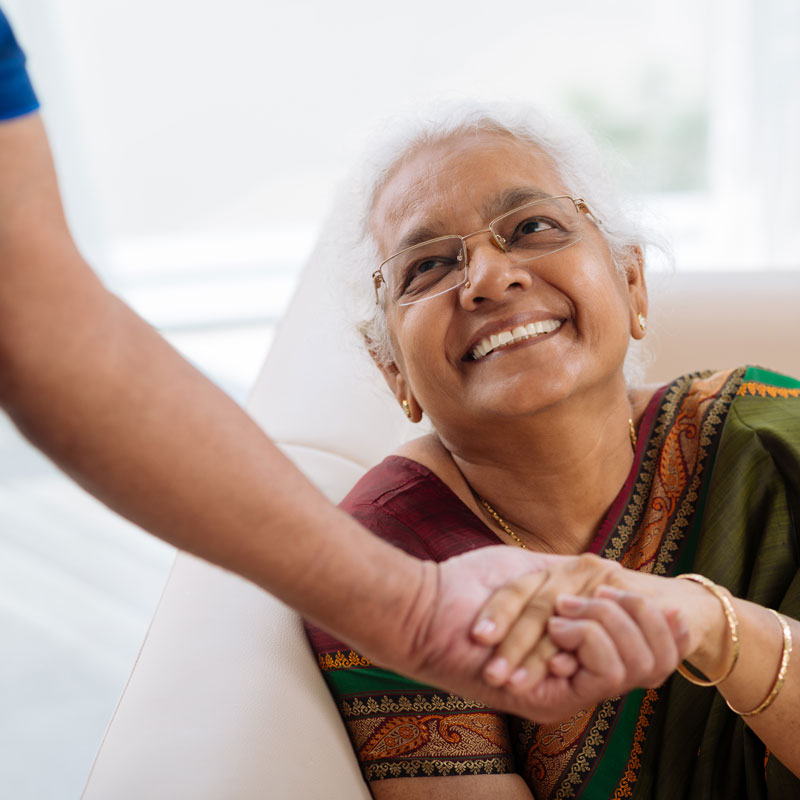 Easing suffering while actively promoting patient safety, functionality and dignity
GuideStar Eldercare Medical Group is the regional leader in neurobehavioral eldercare. From its formation, GuideStar Eldercare has focused on providing integrated psychiatric, neurological, medical, geriatric, and psychological health care to adult and elderly patients with neurological and/or behavioral illness. GuideStar Eldercare's mission is to enhance the quality of life for our shared patients by easing their suffering while actively promoting their safety, functionality, and dignity.
GuideStar Eldercare Medical Group is comprised of psychiatrists, neurologists, internists, geriatricians, psychologists, and psychiatrically trained nurse practitioners who all share the same philosophy of care - to provide a comprehensive, compassionate, multi-disciplinary approach to the assessment, diagnosis and treatment of the emotional, behavioral, and cognitive difficulties common in neurologic, psychiatric, and geriatric patients.
GuideStar Eldercare's pioneering care protocols stress the importance of continuity of care to address issues in a timely, holistic manner to help identify and treat the underlying causes of our patients' conditions before they lead to additional concerns.
Our compassionate staff work on-site with each facility's nursing staff to provide an unparalleled continuum of care. The entire GuideStar Eldercare clinical team strives to provide seamless ongoing neurological, medical, and behavioral health care for your loved one.
GuideStar Eldercare Advantage
GuideStar Eldercare's innovative care doesn't end with patient diagnosis and treatment. We work with long-term care facilities on complex medical management issues and regulatory compliance that help facilities establish and maintain high standards of care and compliance. As a comprehensive medical group, GuideStar Eldercare is able to offer access to each patient's clinical team member during regular business hours and support that availability with on call physicians/NPs 24 hours/day, 365 days/year.
Help to decrease psychotropic medication and polypharmacy
Our staff assesses medications prescribed for GuideStar Eldercare patients to create a plan to gradually decrease the usage of psychotropic medications, both to improve patient well-being and to comply with CMS guidelines. Additionally, other medications are regularly reviewed to prevent interactions and eliminate those that may be adversely affecting the patient's mental health.
Help to maintain facility oversight status
We understand the importance of regulatory compliance. GuideStar Eldercare's services ultimately enhance and elevate a facility's ability to care for challenging patients so that patients, their families and regulators alike are pleased with the care and clinical outcomes. We have been caring for these individuals for over 15 years and have never been negatively cited nor received an F329 tag. Additionally, we have actively partnered with facilities that have experienced deficiencies/ citations to return them to full compliance.
Help to educate facility staff on best practices
Our team offers in-service education programs to long-term care facilities to help staff maintain best practices and the highest levels of care. We are able to tailor these programs to fit a facility's specific needs, working with the leadership team individually or as a group as they deem necessary.
Help counsel patient families
It is important for family members to know what to expect during the course of treatment for their loved ones. We encourage family members to be active in their care and offer to meet with them to discuss their diagnosis and treatment plan.
Comprehensive Care
GuideStar Eldercare Medical Group is one of the pioneering medical groups in eldercare. From its formation, GuideStar Eldercare has focused on providing a complete contiuum of care for seniors. GuideStar Eldercare treats a comprehensive array of Behavioral Health/ Neuro-Psychiatric conditions on-site including:
Dementias
Alzheimer's disease
Parkinson's disease/movement disorders
Huntington's disease
Traumatic brain injuries
Long-term mental illness
Cerebrovascular accidents
Memory loss and confusion
Depression and anxiety
Schizophrenia/psychosis
Depressive disorders/bipolar
Hallucinations/delusions
Agitation/aggression
Elopement
Medication problems or side effects
Poor appetite or weight loss
Concerns about current living situations
Falls & mobility issues
Changes in mental status
Multiple chronic illnesses
Patient/Family counseling