Dementia Care: A Person-Centered Approach to Communication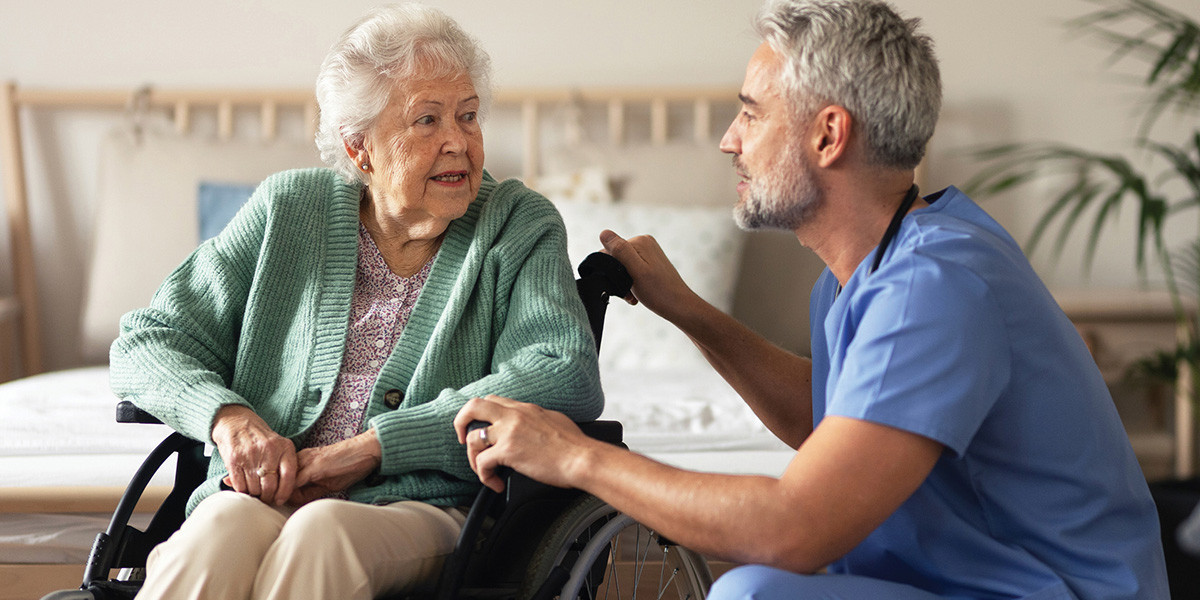 Honoring the individual reality experienced by a person living with dementia and building caring relationships are among the core principles of person-centered care. And communication between nursing staff and residents is essential, explain Manen and colleagues in a review article. Communication is fundamental to building relationships, performing nursing care tasks, and responding to the needs of residents, they explain.
Nurses: communication the main challenge
In dementias, the neuropathologies at play can affect many aspects of communication, including a resident's ability to find words, comprehend language, and participate in conversation. Commonly, nonverbal and behavioral messages emerge to center stage as dementias progress.
"Nursing staff play an important role in the interpretation of these messages," Manen and colleagues explain. And, not surprisingly, they cite research indicating, "Nurses in dementia care consider effective communication as the main challenge in their jobs."
Nurses who are experiencing communication problems also report higher levels of stress on the job, a key factor in nursing turnover cited by CMS in its proposed minimum staffing standards. CMS acknowledges that more than half of nursing staff in long-term care experience "burnout," and "the impact of burnout on organizational turnover was significant."
The good news is that providing communications training to nursing staff can reduce caregiver distress, found Sprangers et al. They also linked effective caregiver communications to "higher quality of life, lower depression rates, and lower frequencies of verbal and physical aggression in nursing home residents."
Many factors in communication
The review work by Manen et al. sorts communications factors into three groups:
Nursing staff: Staff bring to the table their own professional characteristics, perceptions of clients, verbal and nonverbal communications skills, and values (such as respect).
Client: The person with dementia presents with a personal sociodemographic and medical profile, along with individual cognitive and physical status, behaviors, communication skills, and values.
Context matters as well. Often, this relates to a care task in the context of time and place. It's well understood that the environment plays a role in communication. Staff may find that certain times of day and environments optimize communication.
A few of the insights that emerged from Manen et al.'s work include:
Workload pressure for nurses is a barrier to communication.
If nurses perceive residents as "resistant," they are likely to communicate less effectively.
Nursing staff can enhance communications with a kind approach, eye contact, short cues, and verbal reassurance.
"How you say it" is more important than "what you say".
BPSD and unmet needs
One of the models experts have built to help with communication is called VERA, which stands for Validation, Emotion, Reassure, and Activity, explain Murphy and Maidens in Nursing Times. The idea begins with acknowledging what the person with dementia is saying (validation), and then identifying the underlying emotion. For example, an elder asking for her mother could be feeling a need for reassurance. A nurse can respond by repeating the elder's question [validation] and then respond, "You must be feeling lonely," or "Are you feeling frightened?" [emotion].
Next, the nurse can say something like, "You are safe here" or "I'm here with you." [reassure]. The final step engages the client in structured activity and helps maintain a sense of identity, e.g. "Come and show me your photographs" [activity].
"It is important to understand why people ask certain questions in order to know how best to respond and offer recognition, respect, and build trust," suggest Murphy and Maidens. In the common occurrence of Behavioral and Psychological Symptoms of Dementia (BPSD), nursing staff can sometimes identify an unmet need and help prevent escalation of certain behaviors through the steps of VERA.
Unmet needs can take many forms: Is a person feeling hungry, thirsty, lonely, fearful, or tired? Is the person in pain? (Learn more in our blog). Does the person need to use the bathroom? Or have they been doing the same thing for too long?
See more caregiver tips for communicating, and learn more about responding to delusions and paranoia in our blog.
Person-centered approach
At the heart of a person-centered approach to dementia care is regard for a person's abilities rather than their symptoms of brain disease, Manen et al. remind us. "Nursing staff should adapt their communication behavior in such a way that it matches with the abilities of an individual person." Often, nursing staff can play a role in building respect-based, trusting relationships that honor residents' personhood.