Understanding Person-Centered Dementia Care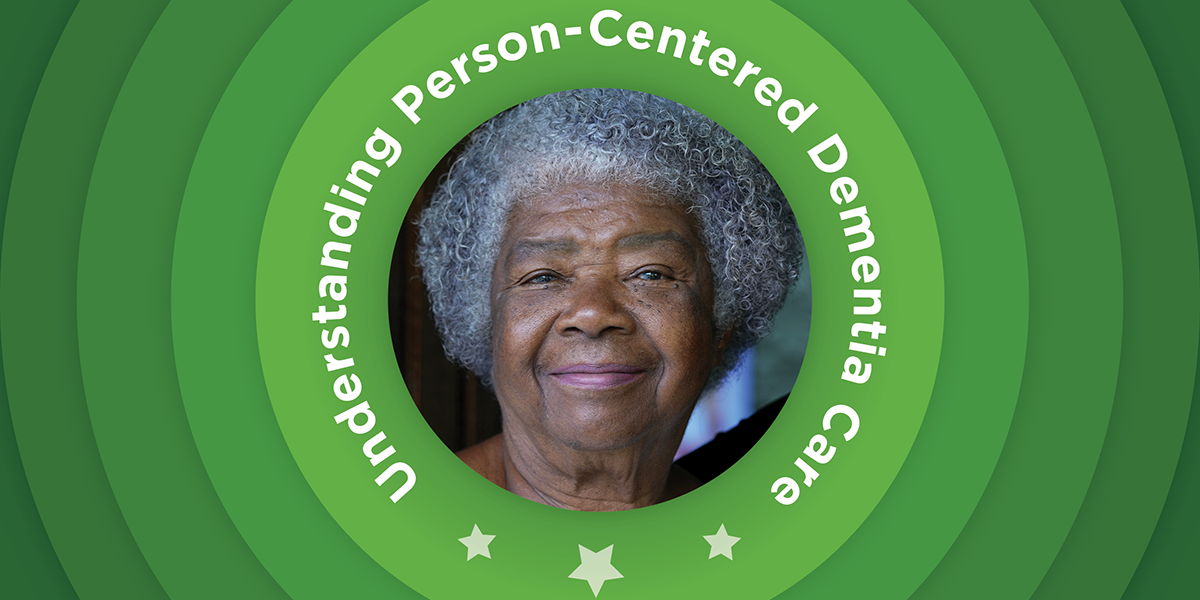 "Person-centered focus is the core of quality care," according to the Alzheimer's Association. It is the foundation of Dementia Care Practice Recommendations, which were developed to better define quality care across all care settings and throughout the disease course. These dementia care recommendations have been embraced throughout the long-term care industry. In addition, they're the focus of a collaboration with The Joint Commission for Memory Care Certification (MCC) as model standards for improving quality and safety in dementia care.
Person-centered care principles
The basic principles of person-centered care for individuals with dementia are:
Know the person living with dementia
Recognize and accept the person's reality
Identify and support ongoing opportunities for meaningful engagement
Build and nurture authentic, caring relationships
Create and maintain a supportive community for individuals, families, and staff
Evaluate care practices regularly and make appropriate changes
Dementia: more than a diagnosis
Underlying person-centered care principles is acknowledgement of the person experiencing the condition. "People with dementia need to have an identity and their caregivers must help maintain this identity," explain Fazio et al. Caregivers need to understand the resident's "values, beliefs, interests, abilities, likes, and dislikes—both past and present," advises the Alzheimer's Association. "This information should inform every interaction and experience."
Dementia behaviors
Fazio et al. note, "The term person-centered care has its origins in the work of Carl Rogers, which focused on individual personal experience as the basis and standard for living and therapeutic effect." In long-term care, caregivers often struggle with the range of behaviors accompanying dementia. Here, it can be helpful to recognize behavior as a form of communication about an individual's' reality. Behaviors can stem from feelings and experiences. Communication and empathy are key to accepting another person's reality.
Engaging residents
Dementia care is about more than keeping residents occupied, note Fazio et al. They need to feel an attachment. "They need to be involved in past and current interests and sources of fulfillment and satisfaction." Engagement can bring comfort, joy, and purpose to the life of a person with dementia, even when the illness is advanced, notes the Alzheimer's Association. To be effective, it should be guided by an individual's interests and what they like. This provides continuity and preserves a crucial life narrative. "Due to declining cognition, persons with dementia need others to 'hold their story,'" note Fazio et al.
Building relationships
While nursing home staff face daily "to-do" lists and routines, what defines person-centered care is a focus on relationships over tasks. Person-centered care "challenges the traditional medical model of care that tends to focus on processes, schedules, and staff and organizational needs," note Fazio et al. When the person comes first, a true connection between caregiver and resident generates respect and confers dignity. Individual preferences remain at the center of the interaction. This is especially important when we recognize the powerful impact of feelings on the emotional experience of nursing home patients (See Dementia Communications: Tips for Nursing Home Caregivers).
A supportive dementia care community
A sense of comfort and opportunities for success flow from the community itself, says the Alzheimer's Association. Social connections, the opportunity to share experiences with others, and the right to be oneself are all integral to a successful dementia care community. Celebrating the ways in which each person expresses a unique personality and celebrating their joys are important.
Continuous improvement
All aspects of resident care undergo a cycle of re-assessment and any warranted adjustments. The same is true of person-centered care. A long-term care facility needs to evaluate its practices on a routine basis and consider refinements that will further enhance the resident experience.
It is especially important to recognize this: "Selfhood is much more than memory and should not be viewed only in terms of cognitive abilities. Recognizing and maintaining selfhood is key to person-centered care" (Fazio et al).
Person-centered care is at the heart of our mission at GuideStar Eldercare. We work with you to advance the safety, functionality, and dignity of each of your residents, every day. What does person-centered care look like at your facility? We're here to help.