Reducing Antipsychotics in Nursing Homes: Results of a Peer-Reviewed Study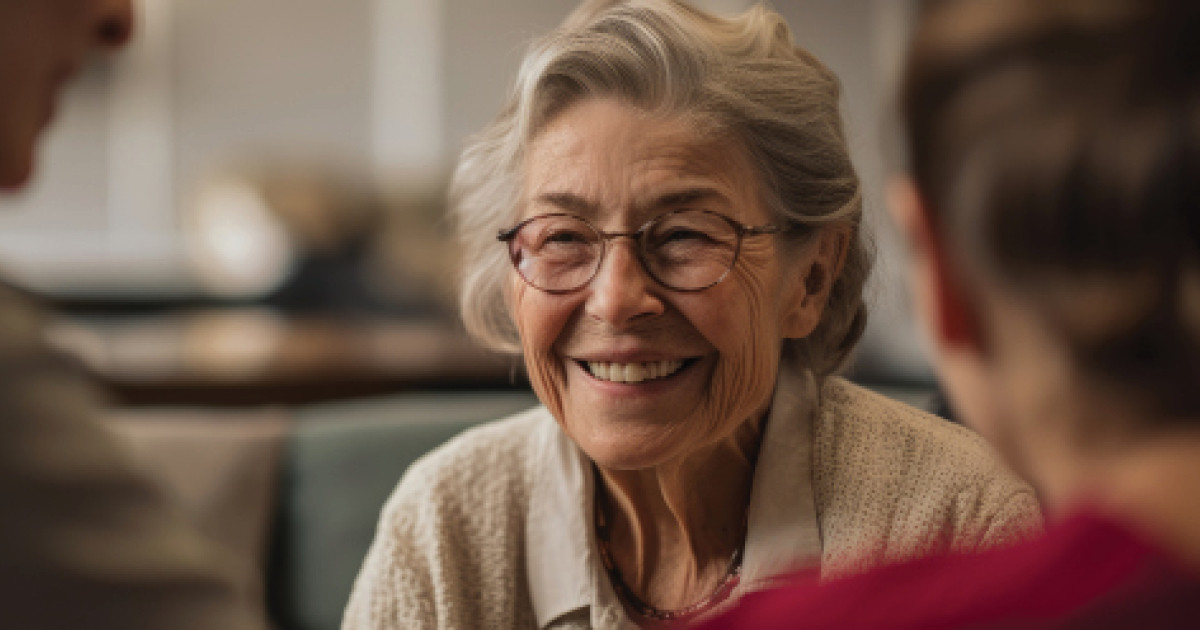 "Antipsychotic utilization in Skilled Nursing Facilities (SNFs) is a major focus of regulatory compliance and a key theme in resident care," according to a paper appearing in JAMDA (Sept. 25, 2023). Research demonstrates that a new collaborative care model piloted in three Indiana SNFs has reduced use of antipsychotics by 68%. The study authors are Steven L. Posar, MD; Anita Reid, MSN, APRN, FNP, GNP; and Daniel M. Heiser, PsyD of GuideStar Eldercare, and Jose Pinon and Janean Kinzie, affiliated with American Senior Communities.
Prevalence of antipsychotic use in nursing homes
The use of psychotropic medications among dementia patients "is concerning because of the side effects and risks associated with their use, including risk of death among older individuals," note the authors. Those concerns led to the founding of the National Partnership to Improve Dementia Care in Nursing Homes in 2011. But the problem is yet to be solved.
"CMS uses a risk-adjusted methodology for reporting the rate of antipsychotic usage," explains the GuideStar Eldercare blog, "Dangerous Antipsychotics" Still Prevalent in Nursing Homes. The risk-adjusted rate fell from 23.9% of residents receiving antipsychotic drug in 2011 to 14.5% at the end of 2021. Since the end of 2021, the rate of antipsychotic use, as measured by CMS, has begun to rise again (by 1.5%).
However, CMS figures likely under-report antipsychotic use, because of the increased prevalence of diagnoses that are excluded from these rate calculations. These diagnoses include schizophrenia (e.g., schizoaffective disorder), Tourette's syndrome, and Huntington's disease, note the authors. "Between 2015 and 2019 diagnoses of schizophrenia and schizoaffective disorder have increased nearly 200% in nursing homes," they explain, and "CMS and Congress are concerned that this increase in exempt diagnoses may be problematic."
The disturbing trend in antipsychotic usage and ongoing dangers to resident safety comprised a call to action for the paper's authors.
A neurology-forward approach to BPSD
In the JAMDA paper, the authors explain, "Psychiatric impairments in LTC residents with dementia are neurologically based." As compared with a prosaic view of Behavioral and Psychological Symptoms of Dementia (BPSD) as psychiatric illness, the clinical research team incorporated neurological diagnosis and treatment as a foundational element of clinical care. They constructed a holistic approach to diagnosis and treatment of dementia.
The protocol studied employed followed comprised a new proposed set of best practices for dementia care:
Creation of interdisciplinary clinical team led by primary care, neurology, behavioral health, and facility clinical leadership
Rigorous neurologic, psychiatric and psychological diagnostic and clinical status evaluation
Total pharmacological review compatible with established and new diagnoses, with emphasis on BPSD-related effects
Initiation of diagnostically driven neurological pharmacotherapy
Reassessment of psychiatric and psychological diagnoses/status after neurological treatment reaches optimal clinical effectiveness
Initiation and/or amendment of psychiatric and/or psychological therapy based on reassessment
Frequent neurologic, psychiatric, and psychologic reassessment and therapeutic adjustment
68% reduction in antipsychotic use
"In 3 targeted buildings, all patients with dementia receiving antipsychotic medication, identified by pharmacy reports, were enrolled in this assessment and treatment protocol designed to mitigate antipsychotic use where possible," said the authors. Patients with substantiated schizophrenia, schizoaffective, and TBI diagnoses were excluded from protocol. More than 90% of unsubstantiated diagnoses were schizophrenia and schizoaffective disorder.
The authors used pharmacy reports to track the impact of the study protocol over a period of six months. The study included 49 participants, 30 females and 19 males, each a verified neurocognitive diagnosis.
The results? An overall reduction of antipsychotic use of 68% "with no noted harms or clinical decline," reported the authors.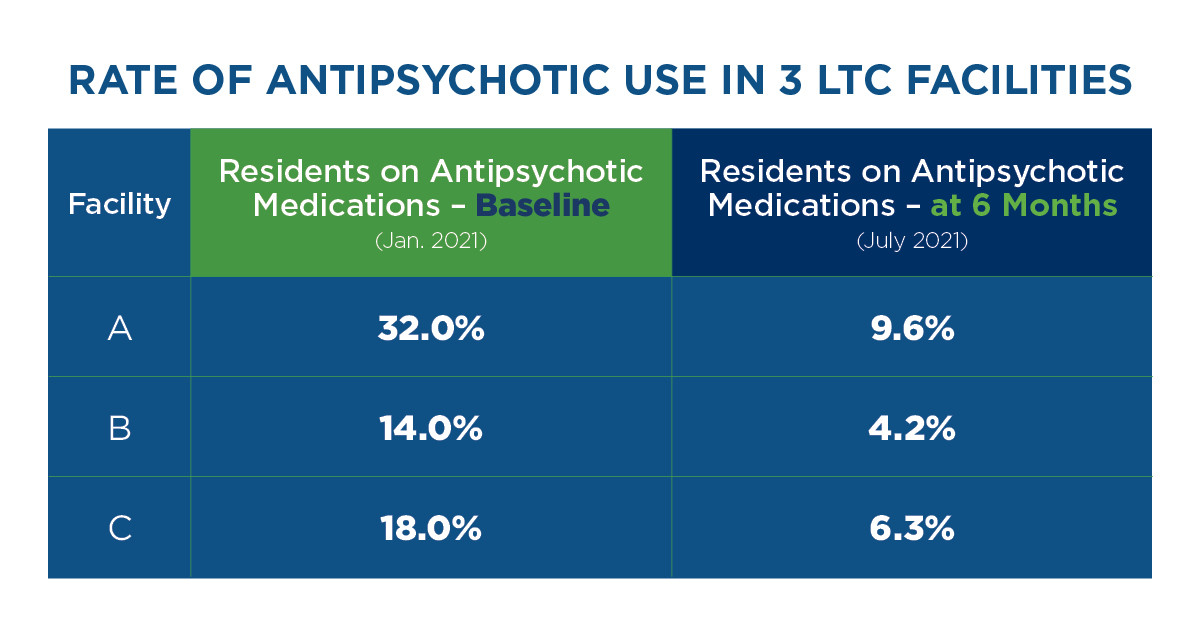 Innovation in care for SNF patients with BPSD
This clinical research dramatically bucks the trend of rising antipsychotic usage in nursing homes. "The integration of a strong 'neurology forward' approach as a 'best practice,' coordinated with and accompanied by psychiatric and primary care, is optimal," concluded the authors. "Careful diagnostic review of neurologic, psychiatric, and psychologic clinical status, care coordination, supportive neuro-pharmacotherapy, and frequent re-assessment will lead to the reduction of antipsychotics and psychotropics," they said.
The GuideStar Eldercare interdisciplinary team is proud to be forging and validating a paradigm-shifting set of best practices for dementia care in nursing homes. We are grateful for the opportunity to collaborate with clients in long-term care to reduce the use of antipsychotics and other psychotropic drugs while advancing resident safety and well-being. It's a mission for us to help every individual with dementia live the best life possible, easing suffering while advancing safety, functionality, and dignity.
To learn more about the protocol used in this study, visit Antipsychotic Stewardship Program: 6 Steps. To explore how we can collaborate to reduce antipsychotic use in your nursing home, reach out to our clinical team, and let's chat. Together, we can change the tide.