Neurobehavioral Needs in Nursing Homes: The Impact of COVID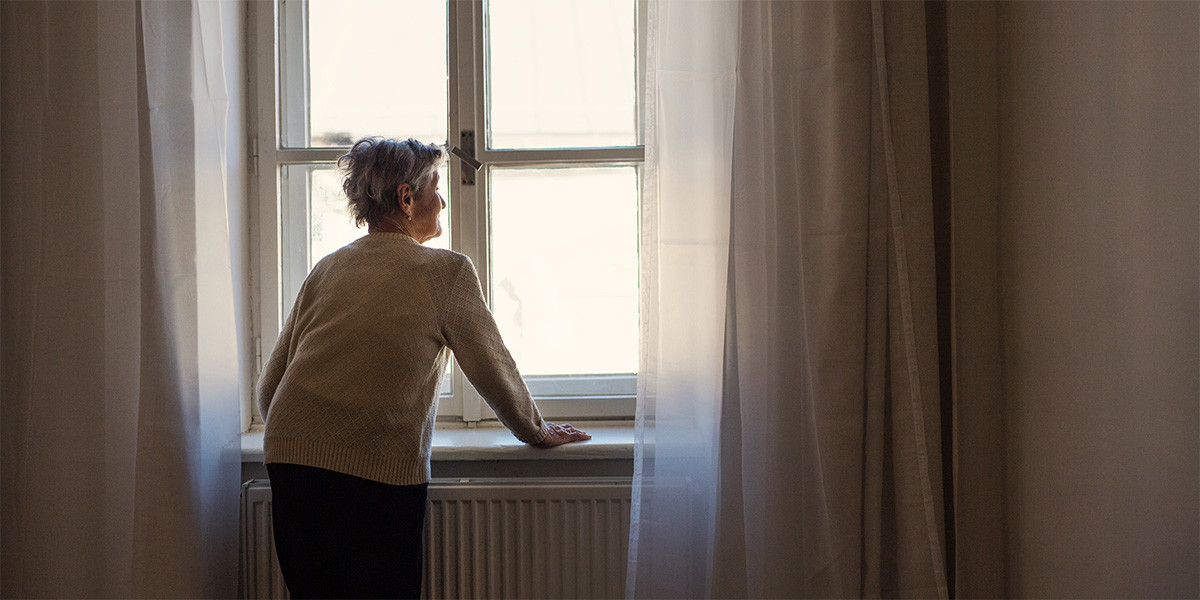 The COVID-19 pandemic has taken a disproportionate toll on people living with dementia. This was a key conclusion of a review article on dementia well-being and COVID-19 by Liu et al. Stresses imposed by social isolation, shifting routines, grief from loss of friends and loved ones, and fear of illness all created strain. It's important to recognize that the entire nursing home workforce was profoundly affected as well.
In addition, say Liu and colleagues, ensuring compliance with COVID precautions is challenging among patients with dementia. They also note that some patients with dementia presented atypical symptoms of COVID, such as hypoactive delirium. This made accurate diagnosis more difficult.
Psychological and behavioral care consultations
In original research, the clinical staff of GuideStar Eldercare measured trends in urgent calls for behavioral health consultation in longterm care facilities it serves. "During the COVID-19 lockdown, longterm care patient residents were presented with an array of unique stressors, including isolation and loss of access to medical health services," said authors Steven Posar, MD and team. During the height of the lockdown in Spring 2020, weekly calls increased by 59%--a proxy for the level of distress patients were experiencing. GuideStar staff, like many medical care teams, pivoted dramatically to establish and optimize a combined onsite and telehealth care model. Call volumes declined.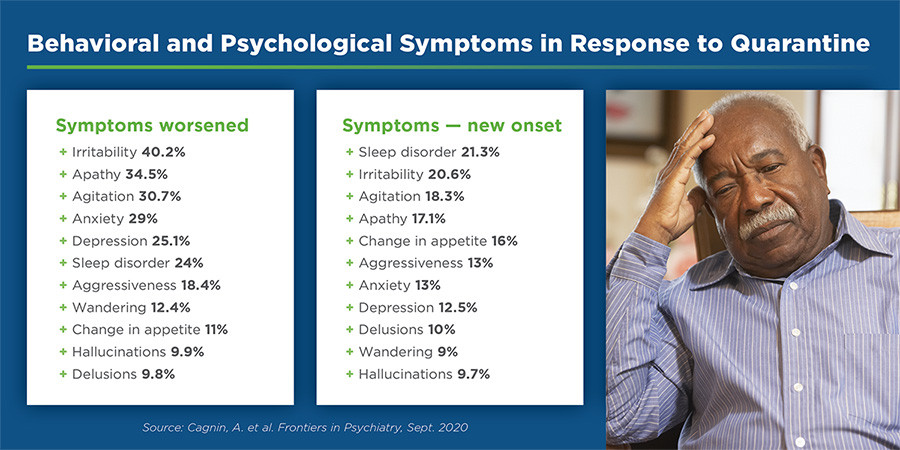 Global research concurs. Looking at the effects of quarantine on patients with dementia, Cagnin et al. reported in Frontiers in Psychiatry that one month into quarantine, almost 60% of frail elderly patients, such as those with dementia, experienced worsening of preexisting behavioral and psychological symptoms. Common complaints were irritability, apathy, agitation, anxiety, and sleep disorders. There was a gender delineation. Female patients were more likely to suffer anxiety and depression; male patients were more likely to suffer apathy and irritability. For more than one-quarter of the patients with reported symptoms, drug modifications were requested.
COVID, isolation, and cognitive status
Nursing home patients have faced a two-fold vulnerability throughout the pandemic. By sheer demographics, they are more vulnerable to severe illness from COVID. By psychosocial wellness factors, they are at heightened risk. Manca et al. reported in Frontiers in Psychiatry that "the COVID-19 pandemic has a wide negative impact on the mental well-being of older adults with and without dementia."
Their review found "a significant association between social isolation and both mental health and levels of cognitive abilities." A data review revealed that more than half of longterm care patients experienced "worsening or emergence of new neuropsychiatric symptoms" in response to social isolation.
Manca et al. also note that loneliness correlates to reduced brain volume in the left temporal lobe, an area affected in Alzheimer's Disease, concluding that "loneliness may significantly increase the likelihood of developing dementia." In all, they conclude that the "drastically impoverished social environment" imposed by the pandemic has disproportionately affected older people and may trigger or exacerbate neurodegenerative processes.
Neuropsychiatric impacts of COVID
COVID-19 can affect the nervous system. Aside from well-known neurological symptoms such as anosmia (loss of the sense of smell), dysgeusia (altered sense of taste), weakness, fatigue, and myalgia, there are psychiatric impacts of the illness. Depression, anxiety, and sleep disorders are among the most common psychiatric complications of COVID, according to a 2021 review conducted by Rogers et al.
Cognitive impairment post-COVID
After infection with COVID-19, neurologic symptoms can persist, according to research presented at the Alzheimer's Association International Conference® 2021. Short- and/or long-term neuropsychiatric symptoms of COVID can include cognitive impairment. "These new data point to disturbing trends showing COVID-19 infections leading to lasting cognitive impairment and even Alzheimer's symptoms," said Heather M. Snyder, Ph.D., Alzheimer's Association vice president of medical and scientific relations.
Person-centered neurobehavioral care
Tragically, the COVID pandemic has been exacting a toll on the well-being of the vulnerable patients we serve in longterm care. To the multidisciplinary care team at GuideStar Eldercare, this means:
We redouble our efforts.
We recognize the suffering our nursing home patients experience and the expanded challenges faced by nursing home staff. Our mission is to enhance the quality of life for our shared patients by easing their suffering while actively promoting their safety, functionality and dignity. We support nursing home professionals by bringing in the expertise of clinical psychologists to dementia care teams, addressing polypharmacy and antipsychotics in dementia care, providing behavioral training for dementia care staff, and providing daily support to our facilities, their staff, their residents, and their residents' families. We are available via on-call services 24 hours a day, 7 days a week. Learn more about neurobehavioral eldercare services. We care deeply, and we're here to help.