Poor Sleep in Dementia: How Nursing Home Staff Can Help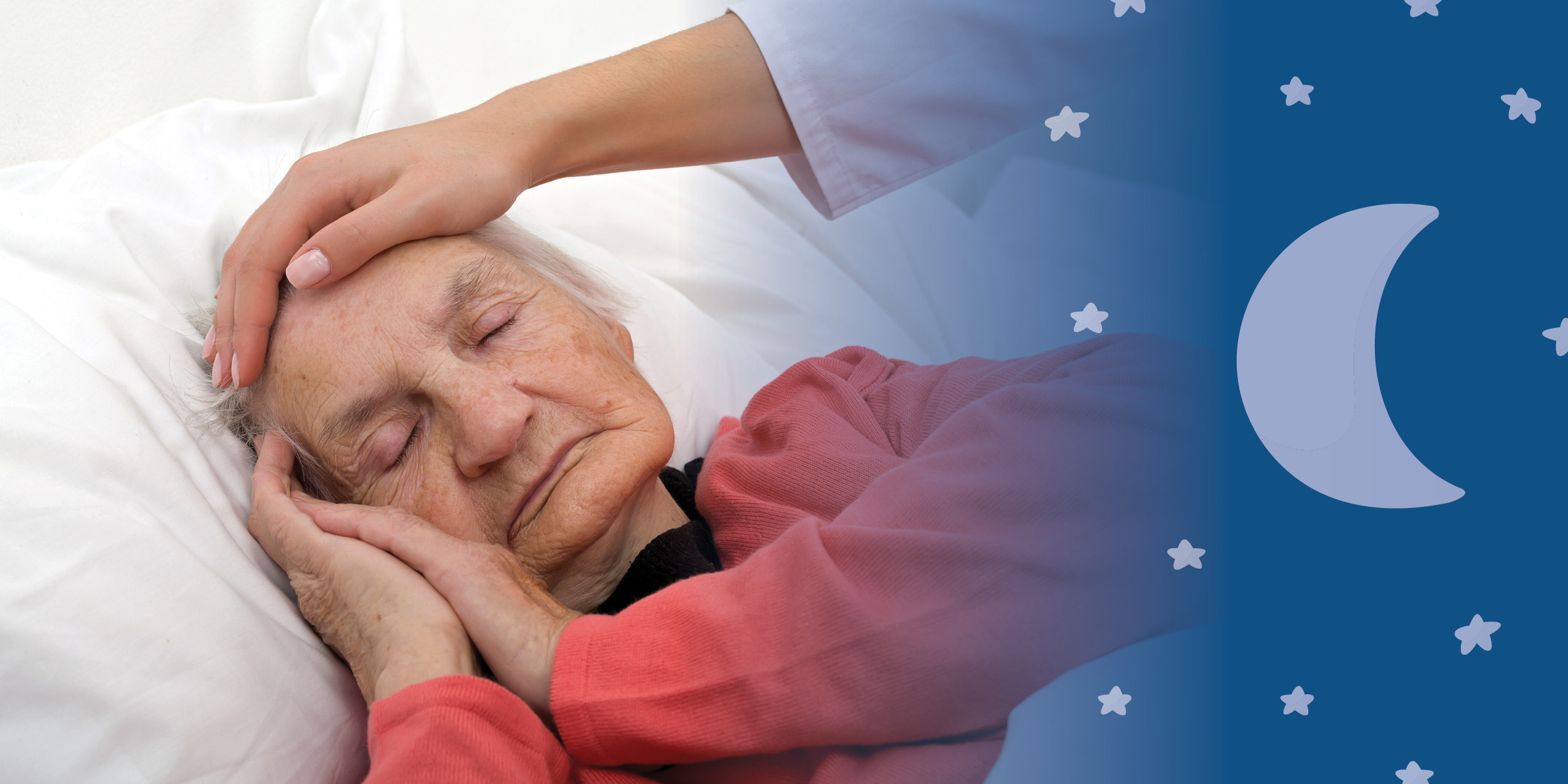 Seventy percent of people with dementia suffer sleep disturbances, CMS points out in its DREAM Toolkit for nursing homes. CMS explains, "High quality sleep is necessary for optimal cognitive and physical functioning, especially for residents who already experience cognitive decline due to dementia."
Why sleep matters for residents with dementia
In fact, "Sleep fragmentation can increase as dementia progresses," notes CMS. Poor sleep weakens the immune system. Note that nursing home residents tend to have a higher incidence of infections, such as UTIs, pneumonia, and of course COVID. This makes protecting the immune system crucial.
In addition, poor sleep interferes with psychomotor performance and could put a resident at greater risk for falls. Almost half of nursing home residents experience a fall at least once a year (Agency for Healthcare Research and Quality). Falls cause suffering, diminish quality of life, and the ability to function.
Poor sleep also increases sensitivity to pain and interferes with metabolic and endocrine systems, notes CMS—with far-reaching impacts on well-being.
Supporting cognitive function
Poor sleep can lead to poor attention, fatigue, mood changes, and even agitation, according to CMS. "Sleep hygiene is one of the change ideas related to supporting optimal cognitive functioning for residents living with dementia. When a resident's cognitive function is supported using non-pharmacological approaches to care, our theory of change is that nursing homes will be less likely to turn to inappropriate antipsychotic medication use to reduce expressions of distress such as agitation and aggression. Ensuring high-quality sleep is one way to support cognitive function," explains CMS.
Improving the sleep environment
DREAM, which stands for Developing a Restful Environment Action Manual, encourages nursing home staff to scan the nursing home environment for factors that can influence sleep, such as noise, light, and activity. On a personal level, staff can ensure that residents are offered incontinence products if needed and that bedtime schedules and routines are tailored to the individual. Staff can ensure hallway lights or common area lights are turned off and that a nightlight is available.
The sleep environment matters, too. Staff can encourage residents to bring their own pillows or blankets from home, stay in control of room temperature, and see their personal sleep preferences honored.
Opportunities for socialization and relaxing activities in the evening can often help. Managing noise is a critical piece of the puzzle. For example, overnight cleaning, kitchen noise, staff conversations, and monitors or alarms can all interfere with sleep. Routine resident care, such as vital signs checks or medication administration, can be managed through resident-friendly schedules to avoid disrupting sleep.
Staff can help with sleep
A person-centered care approach empowers staff to communicate with residents about sleeping concerns. First, they can focus on helping a resident get comfortable. CMS advises: Ask how you can help a resident get settled. Consider whether the resident is experiencing pain, which may not be expressed. Work to honor preferences and help a resident feel comfortable.
If a resident has trouble falling asleep, staff can ask if anything is keeping the resident from sleeping; turn off any bothersome lights; offer a warm, or soothing beverage; and try a gentle touch, such as a hand or back massage.
If a resident is waking up, CMS encourages staff to ask why they woke up and what they need. Keeping voices at a low volume and helping the resident feel safe are important strategies.
Applying best practices in communication, CMS suggests advising staff to keep full attention on a resident during a conversation, allow a resident to complete his or her thoughts, and get to know personal history and preferences. For more tips, see the Dementia Communication blog.
Supporting successful sleep is a powerful strategy for offering person-centered care for your residents with dementia. Need help in problem-solving? As a comprehensive medical group, GuideStar Eldercare provides consistent, daily support to our facilities, their staff, their residents, and their residents' families. We're here to support you.